Law chamber in Dhaka, Bangladesh, leading or top law chamber are popular queries from legal help seekers. To find the best law chamber is a difficult task in Dhaka as well as Bangladesh. Because, Bangladesh Bar Council has not provided any specific guideline in this matter. However, this article will focus on how to find the best law chamber in Dhaka, Bangladesh.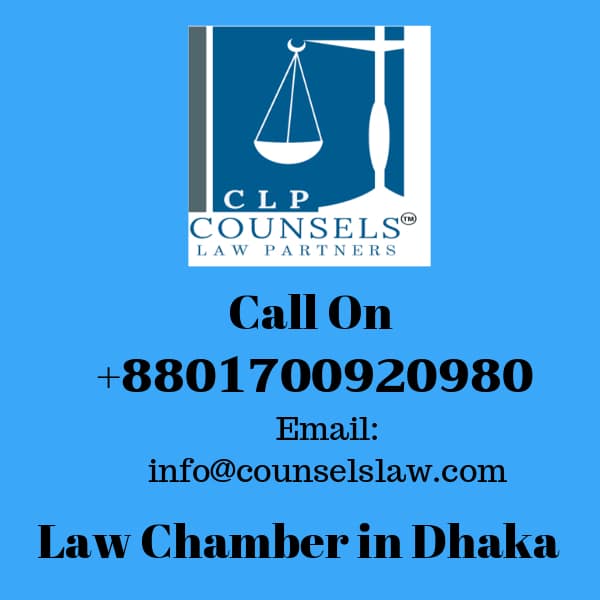 Law Chamber:
A chambers is a room or office used by advocates or barristers where they meet their clients. In a law chamber, an advocate or barrister usually takes their instruction from client and do their paper work for completion the instruction. In addition, law chamber should have at least 2 rooms- one for client conferencing and another one for work place.
Qualities of a best law chamber in Dhaka
There are numerous Barristers, advocates, and lawyers who are providing legal services in Dhaka. Obviously, all law firms are not providing the best legal services in terms of their quality and integrity. There are certain qualities and traits that the best law chamber must have:
1. Legal Compliance as a law chamber-  it is important to note that primarily a law chamber is firstly a business institution. Therefore, the best law firm must firstly have appropriate legal basis i.e. trade license and corporate existence to provide legal services in the capacity of a law firm.
2. Experienced and Qualified Lawyers- A law chamber must have qualified lawyers to practice law in Bangladesh. Particularly, Lawyers must have enrollment with Bangladesh Bar Council. Similarly, a lawyer who wants to deal high court cast must have high court permission to practice.  In addition, the lawyer must have actual knowledge of practice in the field of practice area of law.  
3. Standard of Professional Integrity- lawyers at the top law chamber must handle clients with utmost professionalism and should maintain their professional integrity towards their client.
4. Reasonable Cost- A law chamber should not charge severely high prices from clients and their services should be affordable.
5. Protection of Information- the best law firm must maintain confidentiality of the client. Particularly, law chamber must not share the information of clients and their identity to anyone. A good law chamber should have separate rooms for meeting or conference with clients as well as a safe vault to store confidential files and documents.
6. Healthy relationship with clients- the best law firm should value its clients and his/her needs. A lawyer-client relationship is a long-term relationship and therefore, lawyers in the best law chamber must maintain a healthy relationship with their clients.
Why Counsels Law Partners (CLP) is the best law chamber in Dhaka, Bangladesh?
Counsels Law Partners (CLP) is one of the leading law chamber in Dhaka, Bangladesh. CLP is equipped with the attributes as a best chamber should have. The law chamber has the appropriate corporate existence, has highly experienced and qualified lawyers. In addition, CLP always maintains its utmost standard of professional integrity towards all clients. The leading law chamber does not charge excessively high fees towards its clients. It protects all the information and details of its clients, and maintains a healthy relationship with all its clients. Therefore, CLP thinks they are one of the best law chamber in Dhaka, Bangladesh.
Legal Services by Counsels Law Partners (CLP)
CLP is a full service law chamber in Dhaka, Bangladesh. It provides legal services in various areas of law including (but not limited to) –
1. Corporate and Company matters
2. Family and Divorce matters
3. Land and Property matters
4. Criminal matters
5. Writ Petition
5. Business set up (Name clearance, Article of Association, Memorandum of Association, etc)
6. Contractual matters (Drafting and vetting of contracts to initiating suit for breach of contract)
7. Admiralty and Maritime issues
8. Employment matters
9. Trademark and Patent
Team CLP
Team CLP consists of Barristers, Advocates, and lawyers who are extremely professional and are highly experienced and qualified. The Head of Chambers, Barrister Md Hafizur Rahaman Khan is a UK trained Barrister and an Advocate of the Supreme Court of Bangladesh. He has been in law practice for over 15 years. Over the years he has gathered vast experience in providing legal services to numerous national and international clients. Mr. Khan highly values his client's needs and necessity. The head always encourage and tries to solve disputes amicably through settlement, negotiation, mediation, or arbitration. He looks the profession as a service to the public at large.
For queries or any kind of legal assistance, please reach us at:
E-mail:info@counselslaw.com
Phone:+8801700920980(WhatsApp)|+8801947470606
Address: House 39, Road 126 (3rd Floor) Islam Mansion, Gulshan 1, Dhaka, Bangladesh.