Top Law Firm in Dhaka, Bangladesh
Finding the best law chamber in Dhaka and Top Law Firm in Dhaka, Bangladesh is a difficult task. This is because at present there are thousands of law chambers or firms in Dhaka but all of them do not provide the best legal service and are not suitable for your case or legal dispute. Therefore, in finding the law chamber in Dhaka you should notice carefully if the law chamber or firm has all the qualities required in order to provide the best legal assistance. This article will focus on how to find Dhaka city's popular law chamber.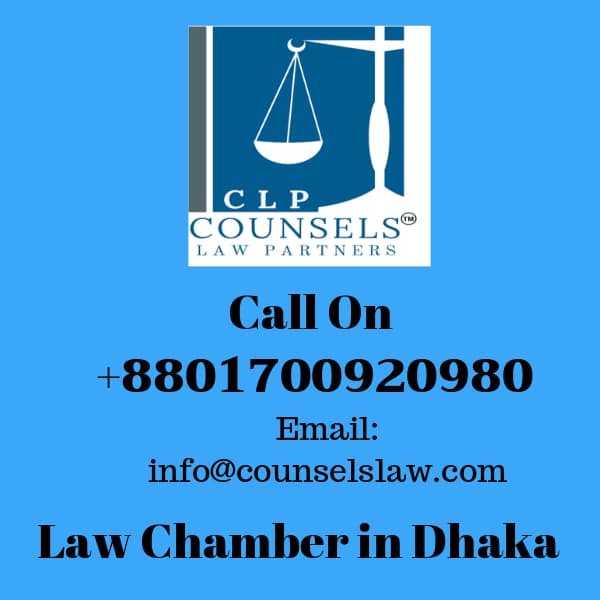 What is the Law Chamber?
Literally, Law means a system of rules which a particular country or community recognizes as regulating the actions of its members and which it may enforce by the imposition of penalties. A lawyer applies the law and advises the clients for maintaining compliance with the law.
A Law chamber is a place where a lawyer practices law by way of providing legal advice and consultation to clients and receives instruction from clients. A law chamber consists of Barristers, Advocates, and consultants. A law chamber will have specialized lawyers for every area of law for example Company lawyers, Family lawyers, Employment lawyers, Criminal lawyers, Lawyer experts in Tax and Vat, etc.
What does a Law Chamber do?  
Some law chamber practices in a few areas of law and others are specialized in all areas of law for example- corporate, company, commercial, employment, land, Tax and Vat, Trademark, Admiralty and shipping matters, criminal law, etc. In addition, a law chamber also provides consultation, legal advice, and legal opinion. Moreover, a law chamber also keeps the option of conducting mediation or arbitration within the chamber or even outside. When required a law chamber also assists in litigation through its litigation expert lawyers.
Traits of the Best Law Chamber 
There are numerous Barristers, advocates, and lawyers who are providing legal services in Dhaka. Obviously, all law firms are not providing the best legal services in terms of their quality and integrity. In selecting a law chamber in Dhaka, the criteria, traits, and qualities that you should focus on are explained below so that you can discharge your legal troubles into the right hands.
Legal basis of the law chamber
it should be noted that primarily a law chamber is a service-oriented business. As such, in order to provide legal service, the best law chamber must first have an appropriate legal basis. For instance, in order to have a corporate existence, a law chamber can be a partnership or proprietorship business. In addition, the law chamber is also required to have a trade license to provide legal services in the capacity of a law chamber.
Legal and practical knowledge of the lawyers
A law chamber must have highly qualified lawyers to practice law in Bangladesh. Particularly, the lawyers must be enrolled with the Supreme Court of Bangladesh. A highly qualified lawyer will have legal knowledge in various areas of law however, that solely is not enough. Having practical knowledge and experience in dealing with various cases is a must. Therefore, you must look into the years of practice of a lawyer in the legal field.
Professional Integrity
lawyers of the best law chamber will emphasize maintaining professionalism and integrity towards their clients. The lawyers of the best law chamber will maintain transparency regarding all affairs.
Proportionate and Reasonable Cost
The best law chamber should not charge severely high fees from clients so that their services are affordable. In addition, the fees should be proportionate with the service provided and there should be no discrimination in fees on the basis of domestic and foreign clients.
Maintaining Confidentiality
the best law chamber will ensure maintaining the confidentiality of all affairs of the client. Particularly, the best law chamber will protect all information, documents submitted, and the identity of the clients. A good law chamber should have separate rooms for meetings or conferences with clients as well as a safety vault to store confidential files and documents. The law chamber will have password-protected computers and a storage system so that the documents of the client can be retained safely for at least 3 years after the case is dissolved.
Professional relationship with the client
The best law firm should value its clients and his/her needs. A lawyer-client relationship is a long-term relationship and therefore, lawyers in the best law chamber must maintain a healthy professional relationship with their clients.
Location of the Law Chamber
another important factor to consider while choosing a law chamber is the location of the chamber. It will of course be beneficial for you to choose a law chamber that is close to your office or home. Hence, the best law chamber will be in a prime location that will be easily accessible for the clients.
Work Load of the Law Chamber
There are various top law chambers in Dhaka but all of them may not be the best option for you. In other words, all the best law chambers might not be able to fulfill your purpose, and one of the reasons for that can be their workload. When you look for a law chamber you should choose a chamber that can offer a reasonable and proportionate amount of time required for the work.
Communication skills of the Lawyers
The lawyer of the best law chamber will be patient when listening to the issues of the client. On the basis of that information, the lawyer will provide good legal advice keeping in mind the best interest of the client. The lawyer should have good communication skills so that he can explain his advice and opinion clearly. In addition, the lawyer will be patient while explaining his advice.
List of Top Law firms in Dhaka, Bangladesh
CLP on the basis of its research, its own judgment, and review from clients, considers itself to be the best law chamber in Dhaka, Bangladesh.
S & ASSOCIATES
It is a full-service law firm that excels at structuring syndicated term loan facilities and debt securities as well as advising on the securitization of financial products.
Accord Chambers Field is a well-respected team that advises domestic and international clients on a broad range of issues. Its skilled team advises on the full spectrum of contentious matters as well as having considerable strength on the corporate and commercial side.
BEPARY & BEPARY
It is one of the leading IP law firms in Bangladesh. The firm offers premium services to clients around the world in all areas of IP laws including trademarks, patents, copyrights, industrial designs, contentious proceedings, and disputes.
It was established in 1994 and built on a unique vision: to create an integrated legal, tax, and investment advisory firm, with in-depth knowledge of the jurisdictions they work in, providing technical excellence across our core areas of expertise.
It is recommended for its considerable expertise in power, infrastructure, and energy projects and for its advice on the financing aspects of these projects.
It advises both national and international clients on a broad range of issues such as the establishment of a business, employment law, and on corporate restructuring.
It is one of the oldest Law firms in Bangladesh. The firm was established by a set of leading lawyers in the year 1957. Since then the firm is run by a set of reputed and hard-working lawyers and their associates.
Rahman & Rabbi Legal, based in Dhaka, Bangladesh focuses on representing clients with cases involving arbitration, business law, banking and finance, corporate finance, employment, and labor law, energy laws, merger and acquisitions, securities, telecommunications law, and property and trust litigation.
It advises local and foreign clients on the full range of legal matters ranging from civil litigation to constitutional and corporate law.
Why Counsels Law Partners (CLP) is the best Law Chamber in the City of Dhaka, Bangladesh?
Counsels Law Partners (CLP) is one of the leading law chambers in Dhaka, Bangladesh. CLP is equipped with the attributes of the best law chamber in Bangladesh. CLP has the appropriate legal basis, has highly experienced and qualified lawyers and is located in a prime location exactly at the heart of Dhaka. In addition, CLP always maintains its utmost standard of professional integrity towards all clients. The leading law chamber charges a reasonable and proportionate cost for the legal service. Most importantly, it never discriminates between clients on the basis of religion, case, colour, gender, nationality, etc. CLP treats all of its clients equally and tries to provide a sufficient and equal amount of time to handle the affairs of each client.  It protects all the information and details of its clients and maintains a healthy professional relationship with all its clients.
The Head of Chamber of CLP, i.e. Barrister Md. Hafizur Rahaman Khan is an enrolled Advocate of the Supreme Court of Bangladesh. He is a Dhaka University graduate and a UK-trained Barrister. He has been in law practice for over 15 years and has immense experience in providing legal services and advice to numerous national and international clients. Mr Khan highly values his client's needs and requirements and therefore, often tries to solve disputes in an amicable manner through settlement, negotiation, mediation, or arbitration. Therefore, CLP thinks they are one of the best law chambers in Dhaka, Bangladesh.
Area of Practice
CLP is a full-service law chamber in Dhaka, Bangladesh. It provides legal services in all areas of law including (but not limited to) –
Corporate and Company matters

Employment matters

Land and Property matters

Criminal matters

Writ Petition

Business set-up (Name clearance, Article of Association, Memorandum of Association, etc)

Contractual matters (Drafting and vetting of contracts to initiating suit for breach of contract)

Admiralty and Maritime issues

Tax and VAT

Trademark and Patent
Counsels Law Partners is always there to provide legal assistance. You can always rely on CLP which consists of highly qualified and experienced lawyers. For queries or any kind of legal assistance, please reach us at counselslaw.com contact page.